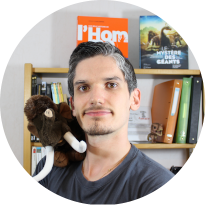 Jonathan LAFONT - Our communication officer

Our Discord platform and upcoming official website are designed and animated by Jonathan Lafont, alias Paléo-J. He is also in charge of our Twitter account, in association with our team members Axelle Gardin and Ana Abrunhosa.
Jonathan is a scientific vloger who unpacks scientific results to the general public, mainly on his YouTube channel Paléo-J. Having completed a master's degree in Paleontology, he offers content related to this discipline.
After this master's degree, he changed his career to disseminate knowledge by following a course in Scientific and Technical Communication and Culture. This allowed him to join the PALEVOPRIM team as a communication officer, ensuring part of the laboratory's dissemination through several means, including digital tools (social networks, videos, website, etc.).
He developed an activity with the status of freelance allowing him to continue to create videos explaining Paleontology in layman's terms, to animate conferences or workshops as well as to bring his skills in scientific communication within the framework of research projects, during congresses or other events.
Find out more about his work on Facebook (@JohnPaleoJ), Twitter (@paleo_j), Instagram (@john.paleo_j) and on LinkedIn.